The original founder of Angel Printing is back!
"Performance, Reliability and Value all matter to YOUR project!"
"As Founder and Chief Executive Officer of printingCEO, it is my duty to maximize the value of your printing."
~Vladimir Medvinsky
Maximize the Value of Your Printing with printingCEO.
Our mission is to use our executive printing and design expertise to increase the power of your printing. PrintingCEO brings over 25 years experience, serving all industries and thousands of clients of all sizes with design, print and project management. We will Increase Quality, Reduce Costs, Maximize Efficiency, Minimize Waste, Meet Deadlines and Eliminate Your Headaches from managing multiple vendors.
Founder & CEO: Vladimir Medvinsky
Thank you for considering printingCEO as your printing and graphic design partner. As the Founder and the Chief Executive Officer of printingCEO, it is my duty to maximize the value of your printing — Performance, Reliability and Value all matter to YOUR project.
Why should you listen to me?
I have decades of graphic design and extensive multifaceted printing experience, working with local, national and international clients. I've managed all steps in the printing process: printing, binderies, mail houses and the requirements of marketing and business printing. I don't say this to brag; I say this so you have confidence in my ability to reach your goals.
My Commitment to You
I promise to use all my knowledge, skills and experience to reach your business printing, marketing and branding goals with the highest quality and efficiency.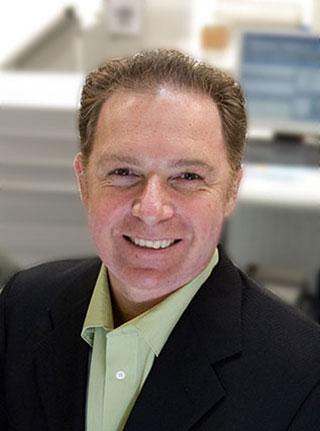 Industries Served
Each sector of business has subtle differences in brand recognition. Accordingly, your business collateral should exemplify your image: powerful, passionate, corporate, elegant, eco-friendly, natural, healthy, cheerful, childish, sympathetic, mysterious, luxurious or other. Whatever your image or industry may be, printingCEO has the expertise to convey that in print. Below are just a few of the industries we are proud to serve.
Printing & Design Services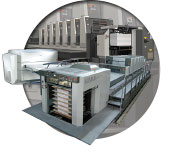 Offset Printing
This traditional method of printing yields a consistent high image quality. Cut paper sheets or rolls of paper can be used to maximize efficiency on higher quantity print runs. Presses can vary from one-color to 10-color and accommodate extra large image areas at very high speeds. Offset printing is recommended for the highest quality imaging and larger quantity orders.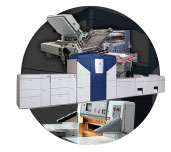 Digital Printing
This newer form of professional printing utilizes a quick drying ink system for instant finished product results. This is why digital printing is best for rush orders, on-demand printing and smaller quantity print runs. Little to no setup costs allow for efficient printing of small quantities. Other benefits include in-line collating and finishing abilities for short-run books, catalogs and manuals.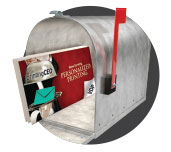 Variable Data Printing (VDP)
Personalized Printing is a form of digital printing in which elements such as text and images may be changed or personalized from one printed piece to the next. VDP works without stopping the printing process and using information from a database. Achieve revenue and ROI from double the normal return up to over 10 times the return on creative marketing concepts.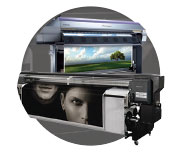 Large Format Printing
Print LARGE for your displays, trade shows and events. Large format printing can be achieved on various media from flexible rolls to rigid materials such as plastics and metals. Our capabilities include paper, vinyl, film, label, canvas, fine art material, plastic, metal, wood and foam core. If you want to stand out and be seen, do it with large format printing.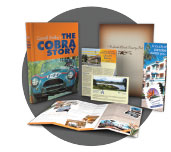 Printing Products
Quality and efficiency are of the utmost importance when selecting the best method to manufacture your printing products. We know the best way to produce your: Annuals, Booklets, Books, Brochures, Business Cards, Catalogs, CD/DVD Sleeves, Direct Mail, Door Hangers, Envelopes, Flyers, Forms, Greeting Cards, Labels, Letterhead, Newsletters, Postcards, Presentation Folders, Sell Sheets, Stickers, etc.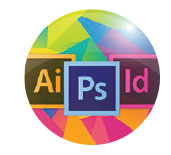 Graphic Design
Make sure your brand identity flies high and your message is delivered in the most persuasive way with expert graphics design services fine-tuned for high-quality print projects. Blending illustration, photography and layout, we'll ensure your finest presentation.
Printing Products
You name it, we can do it. Our founder, Vladimir Medvinsky, started his career as a graphic designer, and naturally evolved into building successful printing and design firms. He and his companies have served thousands of clients and produced millions of printing products. In general, designers design and printers print. Vladimir can do it all. Below are just a few popular products that printingCEO can help you produce. If you don't see what you need, just call and we'll help bring your vision to reality.
Clients
(Over 4000 served)

"…City of Encinitas Recreation Guide. This was a quarterly publication, magazine style, approximately 40-pages designed, with over 30,000 guides printed and mailed. The competition was fierce to win this project, but every time it went out to bid, there was no comparison, and our choice was easily made. The prices were most competitive; the quality of printing and customer service was second to none."
"Mad Media is a creative agency and we have to think out of the box to best market our clients. Vladimir was our go to source for consulting on best printing practices to achieve our visions. He continuously produced high quality printing to make us and our clients look good. I am confident that he will outperform any of your expectations and tackle any size project you may have."
"Thank you for always going above and beyond when it comes to our sometimes 'odd' and rushed requests! We appreciate all you and everyone at your company does for Hot Dog on a Stick."
"Vladimir is driven by integrity, determination and sees challenges as an opportunity to thrive. He personally managed our projects and assisted my team with marketing, design, direct mail, annual reports, and trade show collateral. Vladimir also assisted our design staff located in Australia to properly setup and produce the printed materials utilizing standards necessary in the United States. Vladimir will be a great asset to any business utilizing his services and managing their projects."
Letter of Recommendation
Printed Palette Ink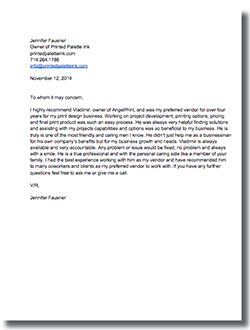 Letter of Recommendation
City of Encinitas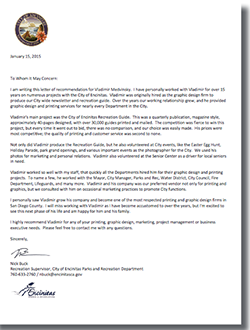 Letter of Recommendation
Mad Media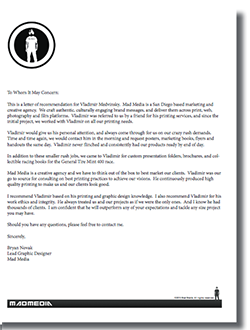 Letter of Recommendation
Point Loma Nazarene University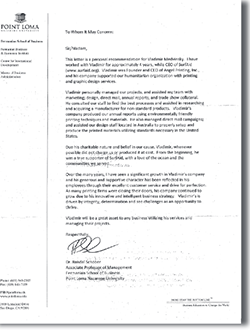 Mini White Papers
Here you will find some actual examples of Clients, Products, Projects and Benefits for various industries served.
(Click on image to enlarge paper)
We'd Love to Hear From You, Get In Touch With Us!
PrintingCEO
Oceanside, CA 92057
Irvine, CA 92618
760.917.1641